BlueStar Business Intelligence
BlueStar Business Intelligence allows your organization to make the most of its existing applications, to achieve its performance management goals. BlueStar Business Intelligence provides:
Timely and efficient distribution of financial information directly to where it is most needed.

Significant reduction in duplication of effort by reducing the need for re-keying data from reports into spreadsheets.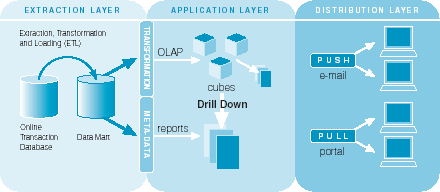 Gartner defines corporate performance management (CPM) as the "Methodologies, metrics, processes and systems used to monitor and manage the business performance of an enterprise."
AMR Research, September 2002
Why choose BlueStar Business Intelligence?
BlueStar has listened to its customers and drawn upon its recent extensive experience with Business Intelligence in the current economic climate. We are very aware of the issues and complexities involved in the implementation of a Business Intelligence solution, and we firmly believe BlueStar Business Intelligence is a unique offering in the marketplace today.
BlueStar Business Intelligence provides
Future Proofing - it is designed to be upwardly compatible with future releases of other Cedar products

Leverage of existing data, avoiding duplication of effort.

Ongoing maintenance - a service no other vendor in the marketplace can truly offer.

Rapid implementation - typically 8 weeks in duration.

A deep understanding of your existing OLTD (on-line transactional database).

Very high efficiency - ETL (extraction, transformation and loading) takes, on average, 50% less processing resource than it does using other solutions in the marketplace.

Access to a wealth of experience - Cedar consultants, with over 10 years' implementation experience, have provided vital input into the requirements capture for the development of cross-module and -sector reporting functionality.
Document Download