Business Description
The Jihsun FHC has numerous financial applications running under hosts. After became a FBC, Jihsun plan to implement an EAI solution to integrate all legacy application across all companies within Jihsun Group. The Jihsun turned to MCS to help automate this business integration process.
Challenges
The Jihsun wanted to leverage their existing investments in mainframe technology and create a message interface that would allow all financial channels to communicate directly to the host application, lowering the labor costs, error rates, and time associated with the API development process. Jihsun had previously used API tools to XML-enable applications, but integration built upon these tools proved difficult to maintain and troubleshoot. They were looking for a new kind of solution.
Technical Requirements
The previous experiences with API showed that approach is not scalable and it difficult to troubleshoot your work. MCS and the Jihsun used their experiences with web-enablement to develop a strict set of requirements for evaluating possible integration solutions. Requirements included:
· No changes to existing host applications. The Jihsun wanted to leverage investments in their existing host applications.
· No Performance issue and maintenance problems with middleware.
· Compatible with Microsoft's .NET. The solution needed to allow customer to use .NET technologies at the application server.
· Session management on the BlueStar.
Solution
Based on MCS's recommendation, the Jihsun uses BlueStar and Microsoft BizTalk Server to XML-enabled their host applications. All front-end channels interact with the host application through a XML interface generated. The client send requests to BlueStar business logic components and wait for the results to come back. The business logic components process the user's request and interact with BlueStar using Microsoft's XML interface (MSXML 4.0) to retrieve the data necessary to fulfill the request.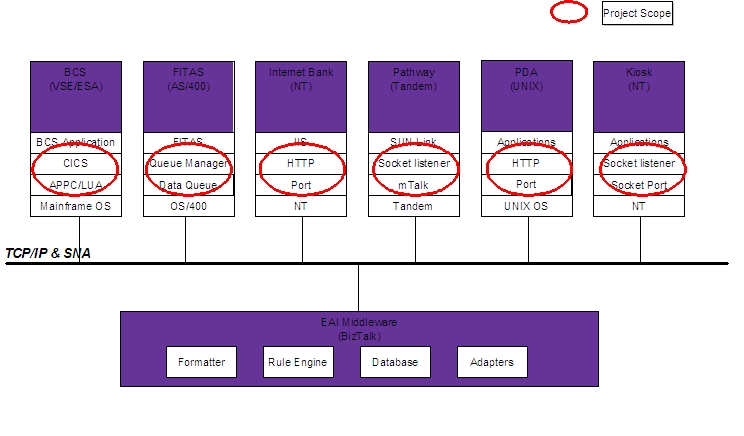 Benefits
Since BlueStar runs on the Windows, it eliminated the cost of purchasing, configuring, and maintaining at Windows server and dedicated to communicating with the mainframe host applications. The clear separation between the host and the front-end channel also made it easy for programmers to troubleshoot and identify problems during development. BlueStar reduced the amount of manual labor involved in processing business transaction by more than 30% by eliminating the need to API development. BlueStar's scalability will allow MCS and the Jishun to XML-enable other applications without requiring additional licenses or hardware.
For MCS, BlueStar has become an important tool in their growing legacy extension practice. Its architecture and simplicity allow MCS to integrate host applications with other applications quickly and easily, saving clients time and money. "BlueStar represents a tremendous opportunity to provide client services around legacy extension," says MCS Sr. consultant Jim Hsu. "Using BlueStar, we can deliver scalable integration solutions to our clients faster and cheaper than we would otherwise be able to."